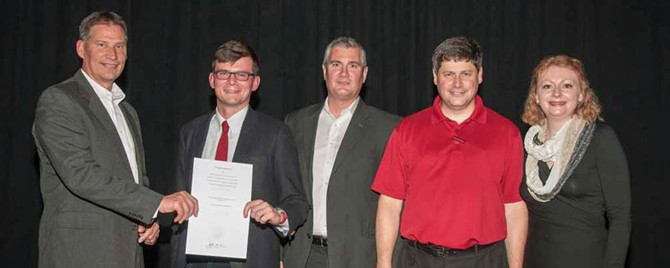 News Career Academy of Pella Wins Design Award
Published on November 11, 2015
Earlier this month, the Career Academy was recognized by the the Iowa Chapter of the American Institute of Architecture. Every year, there is an annual banquet ,which Principal Eric Nelson attended this year because the Career Academy received an honor award.
The American Institute of Architecture is a national organization that recognizes buildings that have been completed in the past year. The buildings submitted were judged, and those who met certain standards were eligible for awards.  The buildings, in order to be judged, were photographed and then submitted. The photographs illustrated things such as the design of the building, and the architecture of the  building as a whole. Four other architects from different states evaluated the building on the aforesaid standards.
"Buildings that were completed between June 29th at 2014 and July 1 2015 were available for judging. All of the buildings submitted were put into different categories and the Academy was classified as an educational building," said Nelson.
The institute has categories for buildings that are involved in the restoration of buildings, medical buildings, and public buildings such as libraries. The award the academy was given was a honor award.
"The Career Academy received a honor award which only 4 buildings per category are given this award," commented Nelson.
Even though Pella High received an award for the Career Academy that was the only benefit the school will receive from the American Institute of Architecture.    
"On top of receiving the award, we as a school will not get anything else. There won't be any money. We will receive a certificate for the award, and it will be displayed in the Academy somewhere," said Nelson.
Receiving an award from the Iowa Chapter of the American Institute of Architecture demonstrated to the student body that the high school has world class facilities.  
Written by Chandler Jahner