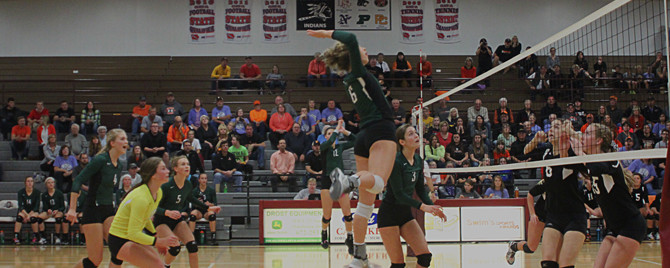 News Volleyball Team On To State
Published on November 9, 2015
The Lady Dutch varsity volleyball team has had a 27-10 season this year, coached by Catie Brand and new coaches Megan Clayberg and Dawn Lauman. Composed of nine juniors, two sophomores, two freshmen, and only one senior, this team has dominated a majority of their matches with an uncommon mix of players.
The team's theme this year is "Reach Higher," and they have done just that. The team advanced to state in Cedar Rapids for the first time since 2010 with wins against Grinnell and Fairfield.
"Last year we fell short of our goals, which motivated us to take our team to a higher level," head coach Catie Brand said. They have seen drastic improvement from last year, achieving 3-0 against their opening conference match to DCG and 5-0 in their home tournament.
With a team so diverse, they can bring many different things to the table.  
"One of our early strengths in the season was blocking. We are very tall this year which is great on the court. More recently, a strength has been the speed of our offense. We are hard to stop when we run in system. The weakness is that if our passing is off.  We can't run the offense as well," said Brand.
Emily Holterhaus is one of the two freshmen starting on the varsity team, which is no easy task.
"I was only really nervous my first game, but now I don't even think about it," Holterhaus said.
Holterhaus hopes to continue volleyball throughout the rest of high school.
"I see myself in the same position, for the most part, because next year we are only losing one senior. I will try to become more of a leader though, and I will still be working on improving my game," Holterhaus said.
Story written by Harley Atchinson
Photo credit to Samantha Boetger