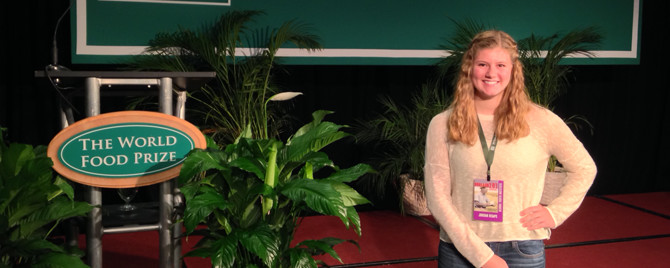 News Rempe Selected For World Food Prize Institute
Published on November 11, 2015
The World Food Prize Global Youth Institute took place from October 15 to 17 in Des Moines.  Junior Jordan Rempe was selected from the high school to represent our worldwide hunger needs. Rempe's journey of being involved with the World Food Prize has been ongoing since last year, and teacher Mark Soloman has been with her every step of the way. It all started with writing an essay surrounding water security in Botswana.
"I originally took interest in the paper because it was offered as extra credit in a class I was taking last year. I didn't really know what I was getting myself into and how big of a deal the organization actually is," said Rempe.
After her essay qualified, she was selected to be a part of the organization.  Recently she was offered an award that would be given to her at the World Food Prize Global Youth Institute.
In all, 200 students from 30 different countries were selected to attend the event. CEOs of major companies like PepsiCo and DuPont and Ambassadors, even Heads of State,  from other nations also attended the World Food Prize Global Youth Institute. Rempe was able to hear from all of these speakers.
"All of the speakers were really interesting. I enjoyed listening to them and gaining a new perspective on different situations surrounding the world food crisis. I also met a lot of new people from all of the state. There was even a girl who came all the way from China for this event. All of the other students there were really nice, and I enjoyed talking to them about their papers," said Rempe.
One of the most interesting events that took place during the weekend included the Hunger Banquet. However, unlike your average Iowan supper that includes sweet corn and steak, the night was modeled and directly corresponded with how the rest of the world eats. For example, 50% had rice on the floor that was to be picked up without utensils from a large community bowl; 30% had rice and beans that they were able to eat sitting on chairs using a plastic plate and fork; and 20% had an elaborate American meal that included a salad, roll, dinner and dessert. Although Soloman was among those who had to eat from the community rice bowl, Rempe was lucky enough to get the elaborate meal.
Written by Natalie Meyer