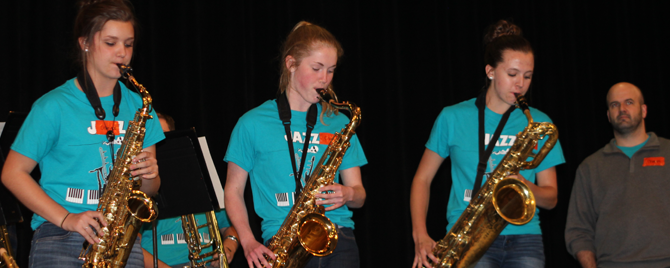 News Jazz Band Repeats as Champions
Published on April 29, 2016
The music department of Pella High School has received acclaim for multiple feats and awards.  Most recently the  jazz band became back to back Jazz State Champions on April 5. Jazz band has gained the attention of the high school in a hurry. Although some still wonder how jazz band differs from other band experiences.
"Jazz band is different than regular band due to its atmosphere and its set up, there are less instruments and we use different songs," said senior Jazz 1 member Macy Nossaman.
In order for a student to be eligible for jazz band, they must try out. Try outs are shortly after the marching band season ends.
"When a person tries out, they are given a piece of music, and they play that music for one of the instructors, and they choose what section of the band to put you in," said Nossaman.
People are eligible to be in either Jazz 1 or Jazz 2. Both sections compete in competitions; however, attention was focused this month on Jazz 1 as they prepared for state competition.
This year, the Jazz 1 group reached the level of state competition yet again after participating in multiple competitions. Junior Cameron Blom commented on the experience.
"The competition was great! We felt a huge relief when we won, because we were a little nervous about some of our competitors," said Blom.  "Mr. Place helped tremendously with helping us stay calm and relaxed, and when we did win, it made us so much better after everything Mr. Place did for us."
The Jazz 1 group was lead by Dameon Place, and he was feeling confident in his group of Jazz 1 students.
"Before the competition, I was feeling good about our group when we qualified for state back in December when we won districts. However, that was back in December, and state was in April, so there was a large break in between there," said Place. "We had a little bit of a slump, like most anything, a month before hand, and I was a little worried, but the way they came back two weeks before was phenomenal. After we had performed at state, I was very confident that they done some of the best they had ever done."
Place is extremely proud of the group he had this year and what they have accomplished.
"After our performance at state, I felt fairly confident, but to be honest it did not matter what place we got. We could have got 3rd, and I still would have been immensely proud of what they have done and how they played," said Place.
The Jazz band will play again at Carnaby Club on April 29 and 30. The Jazz Band has accomplished many feats this year and the program shows no signs of slowing down any time soon.
Article by Chandler Jahner
Photo by Emily Dux