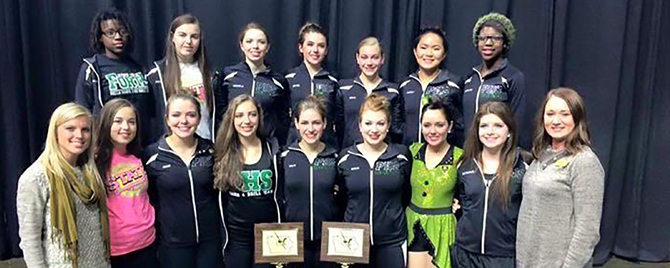 News Forté Places in Division One
Published on December 18, 2015
On December 4, Forté travelled to the Wells Fargo Arena, which is in Des Moines, to compete in the annual state competition. They were awarded 2nd place for military and 4th place for pom. The team has been preparing
themselves for the competition since August.
"We have been preparing for the ISDTA Team Championships by getting the most out of our practice time together.  We have been cleaning sections of each routine and  breaking down the harder sections to get more repetitions on those sections.  We also attended a critiquing session where we receive feedback from a judging panel to make any adjustments needed," said Forté coach Rachel Wurr.
This year's team felt confident going into state given the situation of the team and its returning members.
"I was really excited for state this year! Going into this season, we had only lost one person from last year's team, so our team dynamic and the level of talent stayed the same. I feel that our team is very good at what they do, but at the same time, very humble and confident in what they do," said senior Forté member Elyse Parisee.
This confidence had also managed to work its way into the team dynamic and how the members and the coaches have bonded with one another.
"I  feel  that  our  team  bond  is  very special. We [as seniors] wanted everyone to become friends and to become close, and I feel that they have, which is very cool to be a part of. Everyone is really willing to work. It is a fun environment to be in, and it is awesome to see how much the program has grown into a family," said Parisee.
On average, at state there are over 100 teams present in the different categories. In the kick category, Forté moved up a level, which is like moving from 3a to 4a.
"This year at state, we have been moved up a class in our kick class, which is a class based around synchronized movements. What this movement means is that we are no longer in the same grouping we once were; therefore, we have much stiffer competition. Also all of our routines were, as a whole, much faster than last year, and we pushed ourselves to a college level," said Parisee.
Also new  this year was a change to the military uniforms that the girls wore in competition.
"This year we have new costumes in military, which is extremely special because we have not had a costume change in the past 8 years. We hoped that this change would add a new dynamic to the routine and would give us a leg up on the competition," said junior Paige Meyer.
After all of the events of state, the Forté coach Rachel Wurr commented on the groups representation at state.
"The girls put on a performance with  so much to be proud of," said Wurr.
Article by Chandler Jahner
Photo by Sammy Boetger