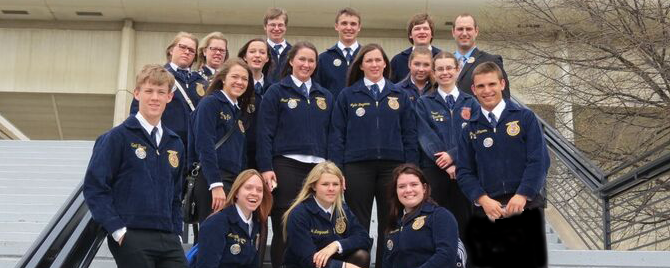 News FFA Leadership Conference
Published on May 20, 2016
The Iowa FFA Leadership conference was held on April 17 through 19 at the Hilton Coliseum in Ames, Iowa. It was a three day trip that included activities, guest speaker seminars, and competitions. FFA students were given the opportunity to attend. They competed and discussed issues with other divisions of the state during this event.
The FFA organization is split up into chapters, districts, and states. The different chapters from surrounding schools and districts went to the conference to learn from others and better their own chapters. Our Pella chapter competed against all the chapters in the state of Iowa.
"We compete with over 300 other chapters across Iowa, which is a large deal. If we do well, it's a great accomplishment," FFA Advisor Jacob Bowers said.
Chandler Jahner, district office vice president, had looked forward to the event. Activities included laser tag, bowling, line dancing, and arcade games.
"I enjoy all of the competitions. There are competitions for meetings, radio broadcasts, and all kinds of public speaking. It usually isn't taken as a chance to learn, but I enjoy learning from other people," Jahner said.
The competitions span a large range of topics. There is everything from creed speaking, which is reciting the FFA creed and being quizzed on questions, meeting leadership, and Experience the Action, which is an interactive presentation given to groups.
"We prepare for the competitions by performing for businesses and other groups, and in return, we get feedback from them. It really helps them," Bowers said.
Last year was extremely successful, and the Pella FFA chapter wanted to repeat that again this year.
"Last year for Experience the Action, we got silver at districts, and then gold at state," Bowers said. They also placed well for other activities such as creed recitation and radio broadcasting.
Their incentive to do well is driven by one thing: free food.
"If they win at state, I treat them all to a steak dinner," Bowers said. The 2015 Experience the Action group had gotten this honor previously.
This conference is also a place for FFA members to learn about Ag. business.
"There are record breaking numbers this year. The job market is low, but the agriculture market is at a high. There are many jobs open, ranging from desk work to hands-on field work. There is something for everyone in the agriculture business," said Bowers.