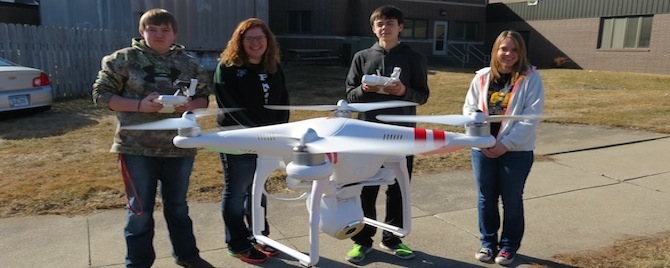 News Drones Put New Spin On Farming
Published on February 3, 2015
Agricultural teacher Jacob Bowers, along with Industrial Tech teacher Mark Goodrich, recently purchased four large drones and twelve small ones. The drones, or quadcopters, were purchased with the Carl Perkin's grant, which provides money for Career Technical Education programs such as Ag, Industrial Tech, and FCS. The drones will be used for educating students about the uses of drones in agriculture.
"The drones serve a great agricultural purpose. They can scout fields, check on animals, survey a large piece of land, check weed and bug pressure, and identify what parts of the field need fertilizer and spray," said Bowers.
Although students cannot make real management decisions using the drones, as an individual must have a pilot's license to use drones for commercial use, students are able to learn how drones can be used in the real world, with a real life application.
"In each class I teach, except welding, we will have a one week unit on how to fly drones. I will be teaching students how to take off and land safely and citizenship, and I will teach students how they can use them for management decisions," said Bowers.
The Future Farmers of America (FFA) program, under the Ag department, owns a crop plot, and the drones will be used to stimulate making management decisions for this plot.
"We will collect data and simulate making management decisions, asking ourselves 'Theoretically, what could we do with all this information?' It's great because students could one day work at a company and fly these drones and help make management decisions," said Bowers.
Bowers believes all students will benefit from the use of drones. Students, too, agree that this new classroom tool will benefit the classroom environment.
"I think it [the drones] will help the class be more efficient because we can see things from a new angle and perspective, without having to leave the school," said FFA parliamentarian Amanda Stanley.
The drones also are environmentally friendly, as they allow products such as fertilizer to be put where crops need it in a process called spot spraying. This will not only save cost by minimizing the amount of spray used, but will help the environment as less foreign chemicals are released into the environment. Inside the Ag department at school, they also create an appeal to the students, hopefully increasing the involvement in FFA and Ag classes.
"I think the quadcopters are really cool. They're a great idea to get more people excited and involved in FFA . . . new people may be interested in learning how to use them," said FFA Treasurer Alex Weers.
Needless to say, the drones will provide students with an incentive to take classes in the Ag department and educate students on the environmental and economical benefits of using drones later on in their careers.
For more articles like this, see the February 10 issue of the Pelladium.