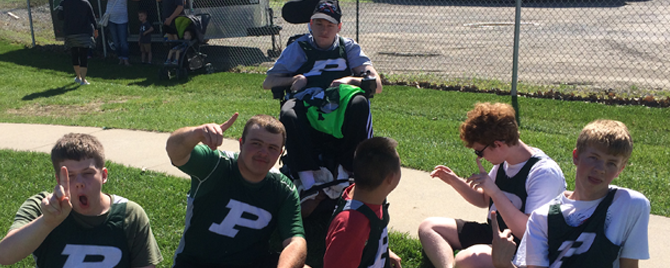 News 2016 Special Olympics
Published on May 20, 2016
The Special Olympics has been going on since 1968. It has become an international event. Each state and country have their own Olympics. It was started by Eunice Kennedy Shriver, John F. Kennedy's sister.
"She believed in justice and equality for individuals with intellectual disabilities and started this program to further that passion," elaborated Lorri Grubb, head of the special needs department at Pella High.
It consists of five parts and takes place throughout the year. Regional and State took place in Des Moines during the months of October and November. Bowling is a part of this section.The Mid Winter Games took place on March 15th in Iowa City. The summer games take place during May in Ames. Grubb believes there is a wide range of students at the Olympics.
"Anyone with an intellectual disability can participate in Special Olympics. You wouldn't be able to tell a lot of the athletes that participate from your typical high school peers. Any student with an IEP is eligible to participate. People from age 8 to 108 can be Special Olympic athletes! " Grubb said.
Since there is such a wide age range, elementary, middle and high school students take part in the olympics as well. Eight students from the high school participate in the olympics. Senior Briana VanDonselaar is one of them.
"It's fun because you get to try out different sports and get out of school,"  said VanDonselaar.
All eight have done bicycling or will do bicycling in May. They practice bicycling in P.E. Individual students do different things to prepare for their events. Senior Mark Steimling, who won a bronze medal for basketball in the Winter Games, practiced outside of the school day.
"I practiced basketball in the gym. I made new friends," said Steimling.
Special need kids are not the only ones who take part in the Olympics. Their peers and associates can help out. Grubb is a Special Olympics coach. All her associates have gone through background checks and passed tests to become Class A volunteers. Amber Williams, a Pella High alumni, was in peer P.E. She helped out there as well. It has taught her to look at special needs kids as who they are, not what they have. It made her realize how frustrating a disability can be, and she is now pursuing a career in occupational therapy.
"My favorite part about volunteering is seeing each individual's gift. For some, it is the gift of athleticism.  For others, it is the gift of being a social butterfly. I would say that I've learned that when someone sets out to help another, the second one isn't the only one changed. For me, personally, I have seen many changes in myself. I used to be timid and shy, but around them I can't be shy. I have taken on more extroverted qualities to adapt to their needs. This is a gradual process and therefore difficult to articulate, "said Williams.
Grubb believes that the Olympics have come a long way.
"What began as a vision has grown into a worldwide phenomenon with millions of Special Olympics athletes competing throughout the world," said Grubb.
The olympics have been a positive influence on the kids, including freshmen Marcus Goodyk.
"I liked it because it was the best thing that ever happened to me. I liked being a cheerleader," said Goodyk.   I like how I choose to do it myself. It was fun getting the metal. I loved it!"