News 2016 Marching Dutch
Published on October 17, 2016
Marching band season is here, and the Pella High students start practice on the field at 7:30 a.m. every school day.  This year's show is titled "España," but  it was originally titled "Red." The band directors changed the name because when they we looking at visuals for the show, they decided to have less red in the show, mostly in regards to the color guard flags. The only true red silk that they have is in the ballad. They started to incorporate oranges and yellows that you would associate with Spain; thus, leading to a change in the name.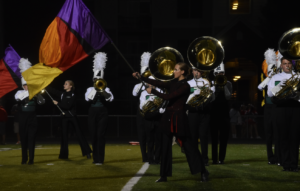 The show is designed to bring you to Spain and to feel the culture.  The Marching Dutch not only keeps you on your toes, the members of the band feel the same way.
          "We have been really quite good the past two years. However, some of the things we have been good at have been overshadowed by things that have little to do with band. [Props] I'm excited to see the band stand on its' own this year, marching and playing better than ever!" said band director Dameon Place.
Due to not using props or voice overs this year, the Marching Dutch is going back to its' roots. They are also preparing for Marching Band competitions.
"The competitions are very enjoyable. I can't wait to see how we improve from our first performance to our last. Being with my friends and learning new leadership skills are what I'm really excited about," said drum major Levi Dugger.
Since the Marching Dutch is back at it, that means that the Marching Dutch Invitational has started the competition season. The Marching Dutch Invitational took place on September 24. The invitational takes a lot of work. The band directors; Dameon Place, Jason Pentico, and Gabe Schott, start working on each invitational the year before hand. Some logistics of the festival are: parking, unloading/loading stations, bus parking, picture areas, etc. Due to construction this year, they closed University St. from E 10th to E 13th St. for buses. Not only are there supposed to be 21 bands coming from around the state, they expected at least 5,000 spectators, and 1,700 students. This leads it to be one of the largest marching band festivals in Iowa.
Tiffany Van Gilst