News Deb Fessler Receives Golden Apple Award
Published on May 25, 2023
Pella Community School District is excited to share that Deb Fessler was awarded the Golden Apple Award on Tuesday, May 23rd.
The Golden Apple Award is given to those nominated across central Iowa by WHO-13 in Des Moines. Deb has been a Pella staff member since 2008 and is currently a first grade teacher at Madison Elementary.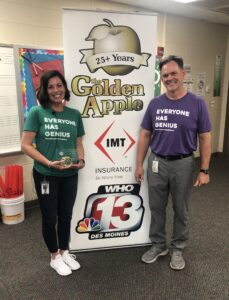 "I am a bit in shock," said Deb. "I am feeling very thankful—for the Pella School District, for Madison Elementary School, for my colleagues that share this ministry, and for all the precious children we teach. Thank you for celebrating with me and if I could divide the Golden Apple into hundreds of shiny pieces, I would share it with EVERY person who pours their life into the children of this district!  A teacher's life-work is the most rewarding of all!" 
"We are thrilled Mrs. Fessler was nominated and selected to be a Golden Apple award winner.  It is well deserved!  Deb has many years of successful classroom experience which shows.  She works hard to build an engaging learning environment for students. She integrates music into the classroom regularly and organizes other experiences outside of the classroom that make school memorable for her students. Congratulations!"  
John Steddom
Madison Elementary Principal 
More information including interviews will be featured on upcoming WHO-13 newscasts airing in June.