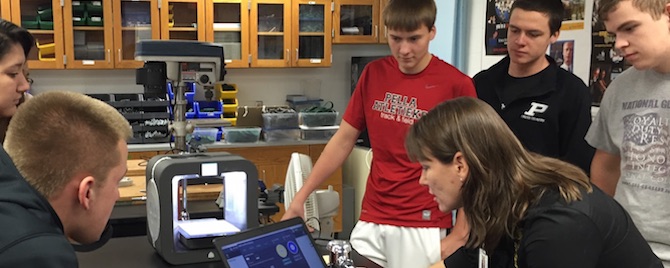 News 3D Printer Donated To PCSD
Published on December 11, 2015
Dennis and Janet Fogle have enhanced the STEM Gateway to Technology and Project Lead the Way programs at Pella with their generous donation of another 3D printer. During the 2012 school year, the Fogle's donated a 3D Systems 3D printer called the "Cube" which allowed students to use the software to design tools and other objects which the printer would create in an actual 3D plastic version. When an issue arose this fall, Susan Lyons, a Middle School GT teacher using the printer in the classroom, reached out to Dennis, a 3D Systems employee, to see if he could help troubleshoot a solution. Dennis did better than find a solution, unexpectedly, he brought in a newer model 3D printer the "Cube 3".
Robin Hammann, a High School PLTW teacher, has students in Engineering Design and Development (EDD) work on solving unique problems with solutions they generate through feedback, design, and testing. This is where 3D printing provides a valuable learning experience for the students. They use the printer to prototype their designs which gives them the ability to hold their designs in their hands. The students are then able to critique the prototypes to determine where their designs were successful or may need adjustments.
The GT and PLTW teachers are thrilled to have the new 3D printer and Pella Community Schools sincerely appreciates and thanks Dennis and Janet Fogle for the valuable learning experiences they have provided our students that would not have be possible without their generous donations.