News School Board Leaders Honored in May
Published on May 7, 2018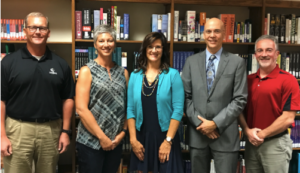 Pella Community School District board members pictured from left:
Gregg Gustafson, Lisa Jansen, Joan Corbin, Timothy Tripp, Gary Coppock
May is School Board Recognition Month and a great opportunity for communities to honor the more than 2,000 school board members who are locally elected in Iowa. Board members volunteer countless hours of their personal time to lead our schools and play a crucial role in educating our children.
The Pella Community School District would like to take this opportunity to thank our school board members for their continued service and commitment to the district.
"Pella is fortunate to have a dedicated group of school board members that truly care about what is going on with our students and staff," says PCSD Superintendent Greg Ebeling. "We are blessed with a school board that puts students first."
Please join the Pella Community School District in thanking board members Joan Corbin (President), Timothy Tripp (Vice President), Gary Coppock, Gregg Gustafson and Lisa Jansen for their outstanding efforts in serving our students and our schools.