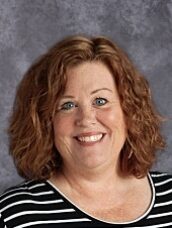 Julie Criscuolo
Teacher
4th Grade (Jefferson Intermediate)
Hello, my name is Julie Criscuolo. I began my teaching career in New Jersey after graduating from Cedarville University in 1989. In 1993 I took some time off to stay home with our children, and then got back into teaching in 2008. I have taught in New Jersey, Missouri and Iowa. I started teaching at Jefferson in 2014 and have enjoyed it immensely.
My husband, Dave and I have four children and even with the different places we've lived our children are all graduates of Pella. In my free time I enjoy helping my husband in our remodeling projects; whether for ourselves or others, reading, baking and playing board games with family and friends.
A favorite thing I do with my classes is have a coffeehouse program. The students memorize poems, their own or others, and then present them to an audience. After the presentations are finished we celebrate a job well done with cappuccinos in the fall, milk & cookies in the winter, and lemonade in the spring. It is so much fun to see how their presentation skills grow!