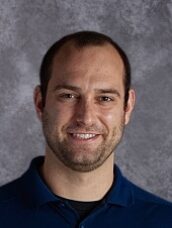 Jacob Bowers
Vocational Ag Teacher
Career Readiness (High School)
Career Readiness (Career Academy)
Graduated from Iowa State University with a B.S. in Agricultural and Life Sciences Education with endorsements in Biology and middle school sciences. I also attended Kirkwood Community College and received my A.A.in my first two years of post secondary education. I started working at Pella Schools in the spring of 2013.
I am the son of a 5th generation farmer and have 3 brothers who also have jobs in the field of agriculture. I have over 6000 hours of agricultural industry experience working with Iowa State University Extension, MaxYield Cooperative, Iowa State University Agronomy, and Ag Leader Technology. Each of these experiences has given me confidence in my understanding of the agricultural field and translates directly into my classroom curriculum.
Part of my responsibility to Pella schools and community is to be the Pella FFA advisor. Below is a link to our calendar, pictures, contest practice links, etc.