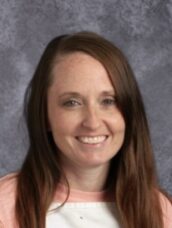 Angela Van Roekel
Art Teacher
Fine Arts (Lincoln Elementary)
My name is Angela Van Roekel and I have the joy of teaching Pre-K through 3rd Grade Art at Lincoln Elementary. I grew up just a short drive north of Pella in the sweet little town of Sully. After attending Central College, I graduated with a major in Art and an endorsement in K-12 Education.
My husband, Mark and I were blessed the opportunity to return to Pella after we married to begin working and serving in the communities we were raised. Mark is the Funeral Director at Garden Chapel Funeral Home in Pella. We have three children, Henry, Cason and Cora, who now all attend Pella Community Schools.
Occasionally, I find free time to be the maker I teach my students to be. I love discovering ways to fix, make, sew, paint and so much more! As a family, we enjoy spending time serving at church, traveling to ski the slopes of Colorado, exploring in the beautiful creation around us, but mostly relishing in the daily adventures of being mom and wife in my family.
I also love to brag that I have the best job in the world! I get to see each of the students minds working in the most creative and productive moments. The process of creating and making brings out a different side in each student, challenging them to dig deep in content knowledge while creating something original. Watching an original idea reveal itself on paper or in 3-D form is just icing on the cake. Every student is a valued artist in my classroom!