Announcements Tuesday, December 20, 2022 — HS
Published on December 20, 2022
Lunch Menu
Multi-Cheese Garlic French Bread or Calzone
Announcements
If you plan to eat lunch at school today, tomorrow or Thursday, please sign up in the lunch room.
There are 3 school days to go until winter break. For our Christmas countdown, we are doing acts of kindness for each remaining day. 
Today, write 3 thank you notes.
Tomorrow, let 2 people out of the parking lot ahead of you.
Thursday, talk to 1 new person.
Senior Ski Trip is scheduled for January 20th at Seven Oaks in Boone. Please plan on attending this fun day for seniors. More information will be coming after break.
Updated Finals Schedule: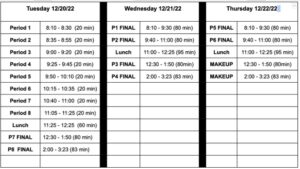 Activities
Good Luck to the girls JV and Varsity basketball teams as they travel to Knoxville today.