Announcements Thursday, May 4, 2023 — HS
Published on May 4, 2023
Lunch Menu
No lunch served today due to 11:15 dismissal.
Announcements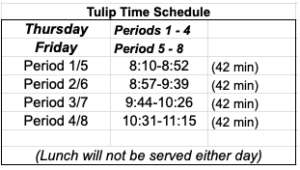 There will be no parking at Faith Church on Friday due to a funeral. Freshmen, you may park in the high school student parking lots during Tulip Time. Please  do not park in visitor or staff parking.
If you will be missing school this week to work or volunteer at Tulip Time, you'll need to fill out and submit a work excuse form. They can be picked up in the office and need to be returned before your absence.
Activities
Congrats to the boys and girls tennis teams on their Little Hawkeye conference tournament championship wins yesterday.