Announcements Thursday, January 5, 2023 — HS
Published on January 5, 2023
Lunch Menu
Ham and Cheese Sandwich
Announcements
Congratulations to the Marching Dutch for representing our school, community, and state! You were one of the most talked about bands on all TV networks! We are so proud of you!
Thursday 1/5 schedule – see below: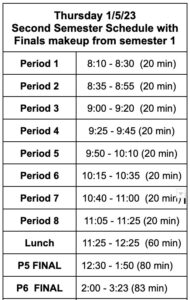 Activities
Good luck to the boys wrestling team as they host Johnston and Norwalk tonight.
Good luck to the 9th and JV boys basketball teams as they travel to PC.
Good luck to the girls wrestling team as they travel to Nevada. Girls are dismissed at 2:25 and the bus leaves at 2:45.