Announcements Monday, December 19, 2022 — HS
Published on December 19, 2022
Announcements
Senior Ski Trip is scheduled for January 20th at Seven Oaks in Boone. Please plan on attending this fun day for seniors. More information will be coming after break.
Seniors – Please stop in the office this week to verify the spelling of your name for your diploma.
There are 4 school days to go until winter break. For our Christmas countdown, we are doing acts of kindness for each remaining day. Today, give compliments to 4 teachers.
Updated Finals Schedule: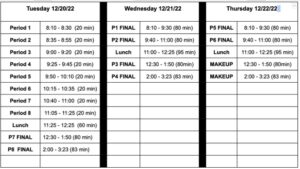 Activities
Congratulations to Trevor Hundt, Jackson Kroes, Ryan Steenhoek, Hayden Papendick, Jack Weaver and the rest of the Robotics team as they won 5 out of 6 matches Saturday in the Des Moines Metro Robotics league.
Congrats to the girls basketball teams and the 9th grade boys basketball teams on their wins over Newton last Friday.
Congrats to the boys bowling team on their win over Norwalk last Saturday.
Congrats to Jasey Olson and Emmalee Spurgeon as they won their wrestling brackets over the weekend. 
Good luck to the boys swim team tonight. 
Good luck to the boys and girls 9th grade basketball teams as they host DCG.