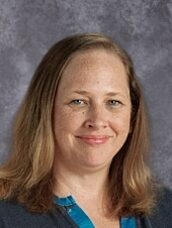 Paula Winward
Teacher-Librarian
Student Resources (Jefferson Intermediate)
My responsibilities at Pella Community Schools are in student and teacher support. I help students and teachers with research and technology use in our elementary schools. I also help with computer-based programs that are used to enhance learning and provide student assessment.
I graduated in 2004 from Southwest Missouri State University (now Missouri State U.) in Springfield, MO. After working as a library media specialist for 4 years, job offers for my husband and I brought our family to Pella in 2008.  In 2011 I received my masters in curriculum: School Library Studies from the University of Northern Iowa.
My husband, a fellow librarian, and I have four children: Chase (1999), Zoie (2006), Annabelle (2012) and Phoenix (2018).  As a family we are involved in the theater through helping run the Union Street Players (USP) Costume Shop and technical support for some shows. It's rare that we aren't on the go for girls dance classes or acting in USP productions. We are also active in church activities, including my husband's participation on praise teams. When we have free time from these activities, we enjoy reading, playing music, working in the yard, and visiting museums and zoos.