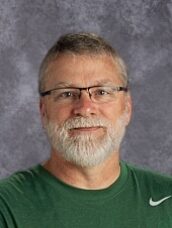 Jay Murphy
Teacher
Physical Education/Health (Jefferson Intermediate)
I graduated from UNI in 1989 with a BA in Education. GO PANTHERS! After teaching and coaching in Clinton, Iowa and Springville, Iowa for a few years I started my tenure with Pella Community Schools in 1993. After teaching Physical Education and being an At-Risk counselor in the district for several years, I changed gears into the technology field in 2002. I went back to school in 2008 and got my Masters degree in Technology Integration. I served as technology coach from 2002-2018. I am currently the Physical Education teacher at Jefferson Intermediate for grades 4-6.
I am married to Tracey Murphy and have two beautiful kids, Quinton and Jenna. We enjoy spending time together and we are proud to call Pella our home.
My hobbies include: hunting, fishing, woodworking, and technology.