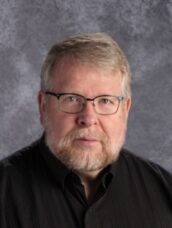 Derek Stratton
Instrumental Music Teacher
Fine Arts (Middle School)
Fine Arts (Jefferson Intermediate)
I graduated from Mehlville Senior High School in St. Louis, Missouri and attended Drake University (BME, MME) in Des Moines, Iowa graduating in 1977. In the summer of 1986 I was honored with a music fellowship to Northwestern University in Evanston, Illinois.
I began teaching band in 1977 at Perry Junior High School. I have been the band director at Perry Senior High School, Dowling High School, Indianola High School, Elk Horn-Kimballton Schools (5-12), and PCM High School. I began teaching at Pella Middle School in 1996.
In November of 2003, I achieved National Board Certification through the National Board of Professional Teaching Standards. My certificate is in Early Adolescence Through Young Adulthood/Music.
I am an active trumpet player in the Des Moines area and was a member of the Des Moines Symphony Orchestra for 36 years, 29 as Principal trumpet.
My wife, Julie, teaches art at Pella High School and we have a son, Jack, 16 (tuba and bass in Jazz 1), and a daughter, Rachael, 12 (clarinet).