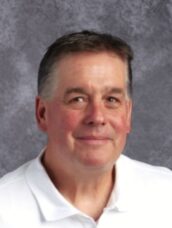 Brent Ewell
Industrial Technology Teacher
Career Readiness (High School)
Career Readiness (Career Academy)
I graduated from the University of Northern Iowa with a degree in Industrial Technology Education. I taught and coached with the Knoxville School District for seven years before accepting an offer with Pella Corporation where I spent almost 30 years in various roles in Human Resources, Marketing and Sales Training.
I'm excited to be a part of the Career Academy of Pella as the Industrial Technology teacher. I also serve as the coach of the Pella High School Robotics team and as Chapter Advisory for the Technology Student Association.
Our family has lived in the Pella area for over 30 years. My wife Pam started her teaching career with the Pella School District and all three of our children graduated from Pella High School.